Dressing for Success in the Work Place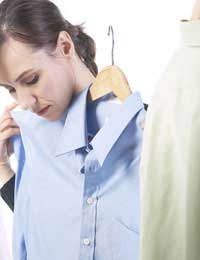 Shakespeare is famously quoted as saying that 'Apparel oft proclaims the man'. Indeed, it is said that the way that you dress and the image that you portray is a reflection of your personality that enables people to judge and make assumptions of your personality and attitudes.
A recent survey revealed that women who dress more like Natasha Kaplinsky are more likely to get promoted than someone, say Abi Titmus, who looks like she is auditioning for a job at Spearmint Rhino. But is that fair? And, is it really the case that you can be too sexy for your job?
In 2005, a teacher was dismissed from her job in the wake of a number of complaints about her short skirts and 'over-abundant' cleavage from both parents and teachers alike.
She argued, "I've always been attacked by my female colleagues because of my attractiveness. And when you consider that at our parent-teacher meetings it was always the fathers who came to see me, it's easy to understand why I have so often been at the centre of attention and a target of gossip."
And in the US, a Harvard University librarian who holds two post graduate degrees from the prestigious Cornell University, claimed that she was passed over for promotion on more than one occasion simply because of the way she dressed and her physical attractiveness. She claimed that colleagues with less experience and education than her were given preferential treatment, citing her supervisor's comments that she was a 'pretty girl' who wore 'sexy outfits'.
Whether it is right or not, the real world of work dictates that dressing provocatively is more than likely going to work against you rather than in your favour.
Admittedly, the way you dress may help you close a big sales contract at a client meeting, after all most men are like putty in the hands of an attractive woman. But when you get back to the office it is unlikely that the same tactic will help advance your career.
Indeed, another survey in the US found that almost half of all Masters holders surveyed who had been in the workforce for 12 years, admitted that they had tried to advance their careers by dressing and behaving in a sexy manner.
However, the survey found that they had only earned an average of two promotions during that time compared to the women who said they had never engaged in sexy behaviour, who had earned an average of three promotions.
And as many as 1 in 5 workers in the UK admit that they would even sleep with their boss to get promoted.
So, in an age when skin-is-in' with the front covers of Grazia, Heat and Hello are emblazoned with images of celebs suggesting that dressing provocatively is acceptable, how do people ensure that their personal and professional wardrobes don't overlap?
Women should stay away from slinky dresses, low-plunging necklines, short-short skirts or tight-fitting trousers.
Avoid wearing any clothing that reveals too much flesh, cleavage, are too short or too tight. At the end of the day you are not there to flaunt your body, you're there to work. And don't expose any body parts - save that for Friday night instead.
And men need to refrain from dropping below two buttons on their shirts or wearing figure-hugging shirts that show off their muscles. In other words, if employers require men to dress in a conservative fashion, they can equally demands that require women avoid tight, flashy and revealing outfits as well.
The main advice for women who are looking to aspire to the corner office is to opt for conservative dress. If you flaunt your figure in a professional setting, colleagues and clients may question your judgment or make unflattering assumptions about your character.
Clothing and appearance are visual shorthand and the key thing to remember is that you want be noticed for your business skills, not your short skirts or push-up bra.
What might be acceptable behaviour for a receptionist or an office assistant is not the same for a senior manager or director. If you want a job, dress the part. If you want to show off your body, well, that's what your free time is for.
Take Katie Vanneck as a prime example. The 34 year old has recently returned to Times Media as its sales and marketing director following a two-year spell as marketing director of Telegraph Media.
Ms Vanneck is the prime example of how to get ahead in the media industry through business acumen and personal charisma without having to use her obvious physicality and attractiveness as a door opener.
Finally, regardless of gender you should dismiss any notion that you may have about flirting or dressing in revealing clothes whilst in the workplace - many people will consider you as insecure in your capabilities to perform your duties and desperate for attention. And you may end up with much less than you think.
You might also like...