Questionnaire: Is This Job Right for You?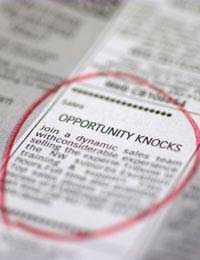 It can be easy to fall into a job because it was the first one you were offered, you needed the money or you were hoping it would be more exciting than it sounded. Now you are in it though, you may be wondering if you have made the right decision.
Most jobs are not going to leave you jumping for joy but they also shouldn't leave you hiding under the cover in the morning either. If you are unsure if your job is right for you then you may need to do a bit of soul searching and decide whether it is worth staying for the experience or if there is something better just around the corner. Take our quiz to find out if you are in the right role:
Questionnaire
What is your first thought when you wake up in the morning?
a) Is it Saturday? Please let it be the weekend
b) I'm looking forward to getting into work today
c) Just 10 more minutes and I promise I'll do something useful today
Is there room for promotion in your job?
a) No, most of my colleagues have been in the same roles for years
b) Yes, my company are keen to promote motivated people
c) Only of someone above you leaves
How much training have you been given?
a) None really, I've had to figure it out for myself
b) I've had a structured, ongoing training programme
c) There's been some on the job training, but nothing official
What do you like most about your job?
a) Lunchtime and tea breaks!
b) Feeling like I am learning so much
c) My colleagues and the office atmosphere
How much do you get paid?
a) Barely enough to make it worth going in
b) A good amount for this stage in my career
c) About average for this type of role
Mostly As
You don't look forward to going to work in the morning and you don't enjoy it much when you are. This is not the ideal job for you as you are not learning new things and there isn't much room for progression. Try to make the most of your role but it is time to start finding something that suits you better.
Mostly Bs
A good job offers training, career progression and something to do that you enjoy. It sounds as though your job does all these things so make the most of it. Work hard, learn from your colleagues and talk to your manager about setting goals and tracking your career.
Mostly Cs
Some jobs aren't great but they aren't awful either. There are aspects of your job that you enjoy and you are leaning things but you need to focus on being your own mentor. Decide what you want to learn or where you want to be in a year's time and take practical steps to make it happen.
In your first job you don't have anything to compare it to and you may think that whatever you are experiencing is normal. Your job may not be the highlight of your day but it shouldn't out you to sleep. If you have a job that is right for you, hold onto it and make the most of any training and support. If not, decide if you can do anything to improve it or if it is time to find something better.
You might also like...