Question. Question. Question.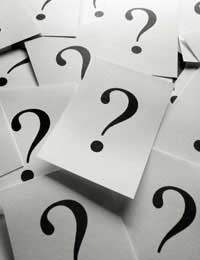 If you don't ask, you'll never know so don't be afraid to ask any questions you may have so that you can progress in your first job and throughout your career. Asking questions not only shows that you are interested in the company but also that you are keen to learn and take a proactive approach to your work. Whether you are in the interview, on your first day, or further along in your job it is important to keep asking questions.
In The Interview
Usually, there will be a point in your interview when you are asked if you have any questions. At this point it is always a good idea to ask something to show that you are interested in the company and eager to learn about them. Don't jump in with questions about pay or benefits but ask your interviewers what they have gained, what chance there is for career progression or how they see your role developing.
Before You Start
So you have got your first job and you are eager to start work. Take this time to research the company a little more, find out what training may be available and what qualities they are keen to see in their employees. By having a lot of information before you start, you will be ready to impress on your first day on the job.
On Your First Day
Now this is the time to make a great first impression so have lots of questions ready so they know you are keen to fit in and learn quickly. Start with the basics so you know your way around the office and who does what. Think in advance about the key things you need to know and make sure that you find out the answers so you can get stuck in to your new job.
Colleagues
People love it when you show an interest in them and their lives so befriend your colleagues by asking them questions. Asking them for advice will flatter them and try and bond on a personal level too but be careful not to be overwhelming. Learning about their career progression will give you inspiration and help you know what you need to do.
Career Progression
Learning about your company and your job will help show that you are a good employee and serious about your work. Ask questions about what training is key, how to apply for a promotion and what you should be doing to work on your career progression. Whatever questions you ask, make sure you use the answers to your advantage.
Asking questions doesn't make you look like you don't know what you are doing but quite the opposite. By asking questions you can find out essential information about your new company and show that you are eager to start learning about your new job. Think about what you want to find out on your first day, from your colleagues and for your career progression and then get asking those all important questions!
You might also like...
My daughters mother (never married) wants to change my daughters name from elenin-mae Elizabeth irean house bladon to elenin-mae Elizabeth house (taking my name Bladon) out of her name , what could be the reasons she wants to do this An could she take my name of birth certificate if I agree ?
Cbbladon
- 6-Feb-17 @ 4:53 PM