Effective Time Management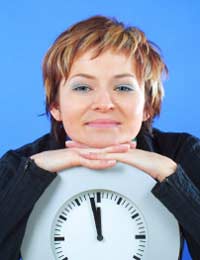 As well as formal qualifications and experience, employers are also very interested in having staff with good soft skills. Time management is an important soft skill as it makes employees more efficient and therefore more productive for the company. To have good time management you need to be punctual, know what needs doing, how to prioritise and how to make the most of your time at work. By working on developing these skills in your first job you will be well set up for the rest of your career.
Make A List
If you are not clear about what needs doing then you will not get it all done effectively. Writing a list helps you to see all the tasks that you have, it focuses your mind and enables you to prioritise them. Having a list also gives you something to refer back to and a great sense of satisfaction when you can mark something as completed. It is best to a create a new list daily at the beginning of your work day so you can plan your schedule.
Prioritise
Everyday you will have many different tasks that need to be completed and you need to decide which are the most important. It is best to develop your own system whether it is colour coding, creating lists or your own idea. Think about what you have to complete on that day and what could be done tomorrow or next week. It is easy to get stuck doing the unessential tasks and then end up stressed and overworked when the important things have to be completed.
Don't Procrastinate
Procrastination is the biggest thing that stops people managing their time effectively. Whether you are putting off the task because it is difficult, boring or too big, you are wasting your time and working day. Make tasks seem easier by breaking them down into small chunks or giving yourself mini-deadlines and rewarding yourself after each one. Be strict with yourself and ban your method of procrastination so that you don't end up working overtime for no reason.
Take A Break
Effective time management is not about working the most but about working smartly. If you never take a break then you will not be working to the best of your abilities. Manage your time by giving yourself a break at certain times, when you have completed deadlines or just when you feel that you need it. Taking a break helps you to relax, re-focus and be more productive.
Effective time management is an important skill to develop in your career. By learning to manage your time in your first job you will become more efficient and productive and therefore a more desirable employee. Make a list of everything that you need to do and then prioritise the most crucial tasks and give yourself a deadline for completing them. Be strict with yourself about procrastinating but don't stop taking breaks as these can help you to relax and re-focus on what you need to do.
You might also like...