Familiarise Yourself With the Office Layout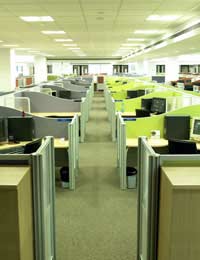 When you first join a new company it can take a while to familiarise yourself with the office layout. Everything can seem very foreign and often bigger and more complicated than it actually it is. By learning your way around it will help you settle in and also feel more confident in your new role. Ask someone to show you around and get to know people in different areas. Try and organise yourself by making notes and testing yourself so that you can be more comfortable quicker.
Ask For A Tour
Hopefully, when you first start your new job, someone will give you a tour of the building and show you where the important areas area. If they don't, then make sure you ask for one. This will show that you are keen to get to know the company and get stuck in. Think of the most important things that you need to know - such as toilets, emergency exits and the kitchen, and be sure to get them pointed out.
Make Your Own Notes
You may think that you will be able to remember everything but the likelihood is that you won't be able to, so make some notes. By doing this it will help drum the layout into your head but also give you something to refer back to if you forget at a later date. Make a clear sketch that you can add to when you learn where people sit or other notes that you will want to know in the future.
Meet People
One of the best ways of remembering a layout is by personalising it. In the office you can do this by meeting different people and seeing where they sit and what they do. As the new person it can be scary to approach established colleagues by try a bit of small talk by the watercooler. A quick chat can go a long way and help you meet people from other areas of the office.
Test Yourself
It may seem silly, but a good way to remember thing is by testing yourself. You don't need to do this formally but next time you are walking around the office give yourself a challenge like remembering where a certain person sits or how to get back to your seat via accounts. These little tests will keep your brain active when you don't have much to do and will help you remember things in other areas of your job too.
One of your key priorities when you start a new job is to fit in and feel at home as soon as possible. Learning the office layout can help you do this by making you feel that you know the office well. Ask for a tour and find out the key spots you will need to know. Then make your own sketch and add notes as you learn more. Meeting people around the office is a good way to personalise it and also to help you settle in.
You might also like...