Your New Computer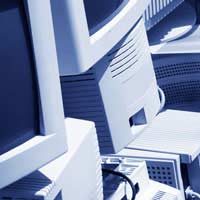 The days when the humble Biro was the most valued and trusted tool that you had at your disposal have gone and today's workers are increasingly dependant upon their computers to perform their roles effectively. And when you start a new job, you have to get to grips with your new computer as quickly as possible.
You start work and sit at your new desk staring at the computer that sparkles with newness and its flat panel monitor that begs you to examine its slenderness. But before you can navigate your way through the handful of introductory screens that take you to the blank desktop canvass that yearns for you to litter with various software applications, you need to complete the set-up process.
Logging On
Before you begin, make sure that you are connected to the network.
An initial set-up of your computer will have been done prior to your employment start date. Ensure that your computer ID has been activated - usually you will have been provided with these details as part of your employee Welcome pack.
Your user name and initial password will already be assigned to you but you will have the option to change the password to one of your choosing once you have activated your computer.
Equipment
Check that the office printers have been installed on your computer. You can do this simply by clicking Start – Settings – Printers.
If you are expected to use your computer for more than four hours each day, then request a VDU screen from your Human Resources department. And don't forget that you are also entitled to a free eye test under UK law.
Training
Every company has their own bespoke computer programmes. So it is important that you are educated about all the software and programmes that you will need to use in order to perform your job.
Make sure that you keep a list of any questions that you are unsure about. And if your knowledge or experience is weak in some applications such as MS Excel, then use this training as an opportunity to develop your skills.
Ergonomics
Long hours at a poorly designed computer workstation can cause aches and pains in the neck and back, shoulders, lower extremities, arms, wrists, hands, eyestrain, and create a general feeling of tension and irritability. Reduce your risk of such complaints by:
Placing the monitor directly in front of you at eye level
Ensure that the monitor is at arm's length from your eyes
Position yourself so that your forearms are parallel to the floor when leaning on the desk
Bye-Bye Standby
Forget the myth that turning your computer off every night is damaging because that's exactly what it is - a myth. When your computer is left in standby mode it continues to use as much energy as a 60W lightbulb. Not only does this waste energy and emit around 1,500 pounds of CO2 over the course of a year, it costs money too.
Experts suggest that leaving just one computer on standby will cost your employer £150 in bills each year. So why not save your boss money from day one and encourage your colleagues to do the same – depending on the number of colleagues you work with, if everyone turned their computers off each night the money saved could pay for one heck of great office party at Christmas!
A FIRST JOB IS FOR SALE.
This website is for sale [more info].
You might also like...