Understanding your own Work Personality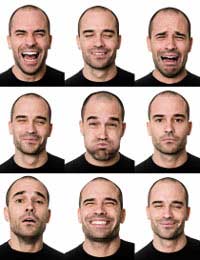 It is estimated that over 90 per cent of organisations use some sort of psychometric testing as part of their selection and assessment procedure. And, the most widely used tool for identifying your personality type and working style is the Myers Briggs Type Indicator (MBTI), based on the pioneering work of Swiss psychologist Carl Jung in the 1920s.
In its simplest form, the MBTI is a pen-and-paper exercise that will enable you to figure out who you are, decode your personality-type, understand how you naturally work and recognise how others may see you.
So if you have ever wondered how your responses to the psychometric test that you took as part of your application process are interpreted, this test will give you the inside knowledge and enable you to understand what your work personality is really like.
This easy to use test consists of four questions. Each question has two possible responses. For example, in Question 1 you can answer either E or I.
So, take a pen and paper, and select the description that suits you better. And try to answer honestly – this is for your eyes only. When you have finished, you should be left with a four-letter personality type, such as ESTJ.
Start The Test
Question 1. Favourite world:
Do you prefer to focus on the outer world or on your own inner world?This is called Extraversion
(E)
or Introversion
(I)
.
Question 2. Information: Do you prefer to focus on the basic information you take in or do you prefer to interpret and add meaning?This is called Sensing (S) or Intuition (N).
Question 3. Decisions:When making decisions, do you prefer to first look at logic and consistency or first look at the people and special circumstances?This is called Thinking (T) or Feeling (F).
Question 4. Structure:In dealing with the outside world, do you prefer to get things decided or do you prefer to stay open to new information and options?This is called Judging (J) or Perceiving (P).
So, what do your answers reveal about you?
Your answers to the questions above have given you a four-letter code – this is your work personality type. And the grid below represents all 6 personality types of the MBTI.
ISTJ
ISFJ
INFJ
INTJ
ISTP
ISFP
INFP
INTP
ESTP
ESFP
ENFP
ENTP
ESTJ
ESFJ
ENFJ
ENTJ
To understand what your MBTI type means, look at the explanations below and consolidate your responses together.
Question 1 is asking, where is your energy is naturally directed? Psychologists agree that all of us have two sides to the way we look at our world that compliment each other. One is directed towards things outside of themselves. The other is directed inwards toward their own thoughts, interests, perceptions and reactions. However, each person has an innate preference towards either the outer or inner world.
Therefore, Extraverts (E) will tend to be more expressive, social, act before thinking, easily distracted and play a more dominant role.
Whereas Introverts (I) are more reserved, cautious, think then act, prefer to work 'behind-the-scenes' and private.
Question 2 is promoting you to consider what kind of information you naturally notice and digest first?
Sensors (S) notice the facts, details and realities of the environment we are in. They realists, practical, analytical, pragmatic, like to use established and trusted skills, and will make decisions based on trusted past experiences.
Intuitives (I), however, tend to be more imaginative, trust their gut feeling, think about the bigger picture, willing to learn new skills and work in bursts for energy.
Question 3 asks, how do you come to conclusions?
Thinkers (T) as you might expect, make decisions based on logic. They will be more analytical, motivated by success, take few things personally and often identify flaws in their (and others) work.
Feelers (F) will make decisions based on emotion and personal belief. They will diplomatic and tactful, take things personally at times, need to feel appreciated by their peers and will avoid conflict as much as possible.
Question 4 is making you understand the kind of environment you feel the most comfortable in? All of us use Judging (J) and Perceiving (P) to process and store information. Yet one will naturally take precedent over the other.
Judges favour a structured, ordered and fairly predictable environment. They make most decisions relatively easily, are sticklers for punctuality and live by the rules.
Perceivers, on the other hand, like to keep their options open, are flexible and adapt easily to their environment. They thrive on spontaneity, are more casual in their time-keeping and can have difficulty in making decisions often needing others to take the lead on their behalf.
In Conclusion
Whether you are for or against psychometric testing, the reality is that it is here to stay. The test above is taken by over two million every year and, it is taken for a reason. Recruiters want to know if your personality and style of working will fit with their culture. But knowing thyself is equally as important.
As the inspiration behind the science of psychometric testing, Carl Jung, said: "Everything that irritates us about others can lead us to an understanding of ourselves."
You might also like...