How to Cope With a Colleague You Fancy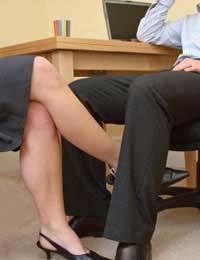 You have sailed through the interview and successfully landed the job of your dreams. All you have to do now is start as you mean to continue and create the right first impression. But, as you walk through the door and see you see the person of your dreams for the first time and your instinct entices you to create a first impression of a different kind. Your jaw drops, your heart starts pounding and all sense of professionalism and composure disappears leaving you feeling like a nervous teenager who has a crush on a teacher.
So what do you do when you fancy one of your new colleagues? Do you chance your luck regardless of the outcome? Or do you place the object of your new-found desire into the realms of daydream paradise and focus on creating the only impression that really counts – impressing your new boss? What happens if the person you fancy is actually your new boss?
Whatever you choose do you must ask yourself, 'If something happened between the two of us, what impact would that have on my position later down the line? How will it affect my career?'
It is estimated that Britons spend around 70 per cent of their waking day at work or performing work-related activities. So perhaps it comes as no surprise that a number of surveys have revealed that one in ten UK workers has had sex with their boss with a further 18 per cent of people prepared to sleep with their boss to advance their career.
As many as 41 per cent of workers admit to having a sexual liaison with a co-worker at an office party. However, going out with your boss or a colleague is rarely a good idea for several reasons.
It is your manager's responsibility to appraise your performance at work, which means that there will be an unequal partnership between the two of you at some point that could affect your relationship if things progressed between both of you.
Let's face facts - if you sleep with someone who is in a position to influence your career, you can guarantee that you will not get any credit or respect from your colleagues if they ever find out about your liaison with the boss. The comment will always be, 'Well we all know why he/she got the promotion, don't we?'
Consequently, what happens if it all goes wrong? Mutual friendships often become strained with other colleagues feeling that they are being placed in an awkward position, forced to takes sides. And sitting in the same office could fill you with revulsion or regret and will more than likely lead to one of you leaving the company.
So, even if your new colleague or boss is a dead-ringer for Cameron Diaz or Brad Pitt don't flirt, even if they flirt with you. Be friendly and always remain business-like. After all, once you have been in the company for a while you may be seen as a push-over because they know that you have a soft-spot for them.
You might also like...