Ethics in the Workplace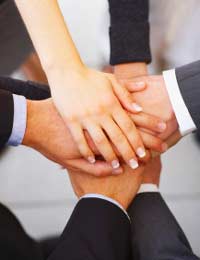 To make sure that a workplace runs smoothly and that colleagues and managers can work well together, people need to work in an ethical way. It is not about some secret or magic formula, but about observing a few basic rights. Making sure that these are followed will help working relationships run smoothly and people to be happy in their jobs.
What Are Ethics?
Ethics are a set of principles by which you run your life by. They are about doing the right thing and treating others the way you would want to be treated yourself. Ethics can differ between different sectors of society, nationalities or culture, but there are a few overriding ethical standards that can be served in the workplace.
Professionalism
There has to be a distinction between the way you would act in your own living room and the way you would act at work, otherwise there would be chaos. A certain level of maturity, respect and understanding is expected in the workplace and you should conduct yourself this way at all times. If there is a disagreement it should be handled in a professional manner following any policies and procedures that are in place.
Accountability
Whatever you do in life, whether in the workplace or outside of it, you have to take responsibility for. Both as individuals and as a company, their must be accountability at all levels. People generally don't want to admit to their mistakes but business cannot be conducted smoothly if people are lying and being underhand.
Fair Treatment
Everybody deserves to be treated fairly and equally regardless of the race, age, religion, gender or sexuality. There are laws in place to protect these rights but they would not be needed if people acted ethically. Be sure to treat your colleagues as equals and if you see in discrimination then report it so that it can be stamped out.
Loyalty
As a member of the company, you have a responsibility to do your bets for them. This means arriving at work on time, working to the best of your ability and not taking advantage of any perks. It also means loyalty to your colleagues and your team and that you must work together and help them out when they are struggling.
Observing Ethics
Ethics should be a fundamental basis for the way that we act but often they are not. Some companies will now give ethics training so that all their employees understand what is expected of them. On an individual level you need to be responsible for your own behaviour and act appropriately. If others are behaving unethically then hold them accountable.
Acting in an ethical way is important for the smooth running of society and the workplace. As well as observing your own ethical code it is worth checking what is laid out in your employee handbook for the rules and regulations of your company. If you slip up, don't worry, you are only human, but learn from your mistakes and change how you behave in the future.
You might also like...