Quiz: Are You Prepared For Work?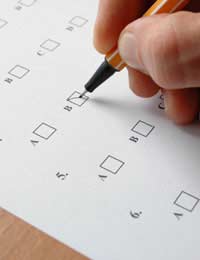 Congratulations, you've got your first job and are ready to get started in the world of work. It is an exciting and daunting prospect that will be made easier if you are fully prepared.
Sometimes it is easy to overlook the details and forget something that will be important in your first job. Take this quiz to make sure that you are ready to go:
Have You Filled in All the Paperwork That You Need For Your New Job?
a) I have it all at home and just need to sit down and do it
b) No. What paperwork?
c) Yes, it is all signed and sealed and in the post so it gets there before I do
Have You Got a Suitable Work Wardrobe?
a) My mum has given me a few things and I have enough outfits to get me started
b) I was hoping that they won't be too fussed what I wear
c) Having checked their corporate policy I am confident that I have
Do You Know How You Are Going to Get to Work?
a) I'm planning to drive there but I haven't tested the route yet
b) I guess I'll get the bus. I'm sure there must be one.
c) I am going to drive but have prepared a few back up options if there is a problem
Do You Know Exactly What Your Role Entails?
a) Pretty much, but I think I will pick up a lot on the job
b) I'm just happy to have a job so I wasn't that bothered
c) Yes, I made sure I asked lots of questions so I am clear what is expected of me
How Good Are You at Getting Up in the Morning
a) Not great but I have numerous alarms to set
b) Really bad. I am always late for things.
c) I have slowly altered my schedule so I get used to waking early.
Mostly As
Don't panic – you are well on your way to be being ready for your first day at work. Before you start, try to work on becoming a bit more focused and organised. Planning ahead will help you feel more confident and will create a good first impression.
Mostly Bs
You may have managed to secure your first job, but unless you work a bit harder, you probably won't keep it for long. Putting a bit more effort in will soon pay off and you will feel pleased with the results that you see.
Mostly Cs
You have done your homework and have covered all the areas that you need to before starting your job. However try to remember that you don't know everything. Being open to taking advice and guidance will help your develop your skills in your new job.
Take a deep breath, hold your head up high and step into your first job with confidence. Being prepared will help you feel confident and ready to deal with the new challenges that face you. However, remember that you are still very inexperienced and it is important to listen and learn from others.
You might also like...