Applying for My First Job: A Case Study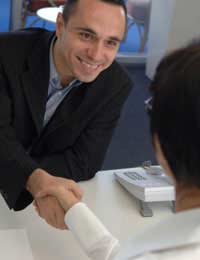 Mark, 21, didn't apply for his first job until he left university and then he filled in countless application forms and sent off a lot of CVs. His hard work paid off but he says that it was definitely a learning process.
"It seems silly to say that I didn't apply for my first job until I left university, but it's true. When I was a teenager my family ran a restaurant so I always just worked in there. When I went away to university my friend ran a club night and I worked for him, so there was never any need to actually apply for a job. Having got all the way through my course, and passed my exams I didn't expect the next stage to be the one that I struggled with.
"University teaches you a lot of things but it doesn't really teach you about applying for jobs. There is a careers centre but I had never set foot in it so I was a bit clueless about where to start. I sat down to try and write my CV but making me sound employable suddenly seemed quite difficult! Eventually I decided that I needed some help."
Seeking Advice
"The first person I turned to was my mum who gave some great advice and said to stop focusing on what I had done but focus on what it had taught me and what skills I had gained. When I went into the careers centre they pretty much said the same thing but helped me to format my CV and showed me some examples of others."
Mark was pretty happy about how his CV turned out and started looking for jobs in graduate finance schemes.
"What I didn't count on was that my CV wasn't going to get me very far because I would have tons of application forms to fill in. These were difficult because they all had in depth, specific questions to answer that took a long time so I had devote a whole week to making myself sound intelligent!"
Getting an Interview
"Luckily I must have done something right because I managed to get four interviews. These were really nerve wracking and some of them were a full day and included group assessments and written tests. It was difficult trying not to compare myself to all the other candidates but I tried to focus on why I was different.
"The first interview I failed miserably at as I just wasn't prepared enough. They asked me about their company which I knew nothing about, asked a few off-beat questions that I wasn't ready for and my mind went blank. After that I learnt about the companies I was going to and had some good answers prepared. 3 weeks later I learnt that I had been accepted onto one of the schemes and was relieved more than anything. Now all I have to do is prove myself when I start work – but surely that can't be as hard as getting the job in the first place!"
You might also like...