How I Made the Most of My First Job: A Case Study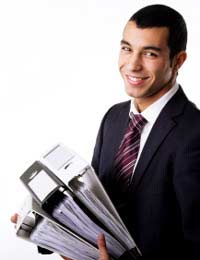 Simon, 24, has progressed quickly in his career since graduating from university. He believes it is all because he worked hard in his first job.
"Having spent my whole life in education it does seem a bit of a jolt to be thrown into full time work. I had jobs before, in my university holidays, but they were only ever for a few months at a time and usually part time hours.
"In the last year of my degree everyone was scrambling around looking for a job and I applied to a lot of graduate schemes. To be honest, I wasn't that bothered what the job was, as long as it was something with a lot of potential to progress."
Getting started
"I ended up being accepted onto a scheme in a big financial firm. I worked 3 months in 4 different departments over the first year. I think this was a really good way to get a solid grounding in the company and to build up my skills. It also allowed me to find out where my interests lie."
While some of his other friends were busy enjoying the perks of the job, Simon made sure that he was being noticed for all the right reasons.
"I got in early, I left late and I would always volunteer to help with any big projects that came up. I think some of the other graduates resented me a bit, but I didn't care – they were my competition.
Payoff
"During my first year I tried to make the best impression I could in each department and was getting good appraisals. It was hard work and my social life suffered but I knew that it would all pay off in the end.
"When the graduate scheme was up we had to choose which department we would like to work for, but there was only a limited number of jobs in each one. Not only did I get the department that I wanted but I was also given a promotion as well.
Next job
"I stayed in that department for another year and kept working really hard. Eventually though, I decided that I would like to get some international experience and work abroad. Luckily, the company has offices all over the world and because I had proved my commitment, I was able to apply for a post.
"I am now working in Canada and I love it. I have a much more relaxed lifestyle and am finally able to enjoy life little bit more. I don't for one moment regret working so hard for those first few years though. If I hadn't have proved myself and built up my skills then I never would have been able to use them to move over here.
"Your first job is the basis of your future career so I would encourage anyone to work hard, stay focused and make the most of it. Think of it as the building blocks towards what you want to be doing learn everything you can from the experience."
You might also like...