Compile a Work Employee Contacts List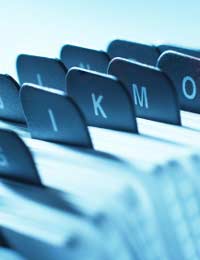 In your first job it is likely that you will be stuck with some of the more menial tasks in your company. One of these may be to compile a employee contacts list. Instead of looking at this as a chore, use it an opportunity to get to know all the people you work with and create a useful resource. Asking for contact details will give you a reason to start talking to those people you don't know and producing the finished product will show off your attention to detail and project management skills.
Why Do It?
Having an employee contacts list at work is a great resource but one of those projects that keeps getting put off and is never completed. It can help employees interact, be more productive and is great in a work emergency. For you, as the new person to the team, it is a good way of getting to know who people are and what they do. It will give you the chance to talk to your colleagues, make a good impression and showcase your project management skills.
What To Include
Your contacts list should be very clear and easy to find the information that you are looking for. Format it in a simple way and make sure that you include the same information for everyone. This information should be people's name, job role, landline telephone number, mobile number and email. Either send an email to gather this information or go over and see people in person.
Distributing The List
Once you have finished your contacts list, you will need to distribute it to all the employees. The easiest way to do this is via email. However, most people will glance at it but never print it off or do anything with it. The best way to do it is to print copies off, laminate them and give them to people to keep on their desks. Although this is more time consuming it will be much more effective and will show your commitment to your role.
Keep Updated
Contacts lists are great but they soon become out of date and then the information is useless. To make yours worthwhile you need to keep it regularly updated. People will always forget to notify you if they change their mobile number or email address so you will need to chase them. Each month, or at a regular interval, send out an email asking them to tell you of any changes and be sure to keep your list properly updated.
Compiling a work employees contact list is not the most exciting of jobs but can be of great use. It helps you to get to know who all your colleagues are and is a way of introducing yourself to them. Gather everyone's email address, phone number and mobile number and create an easy to follow format. Distribute it in a way that people will use and make sure that you keep it regularly updated with any changes.
You might also like...