Professional Etiquette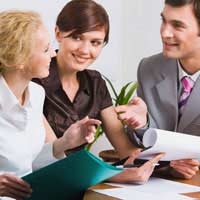 The Oxford Dictionary defines 'etiquette' as "The code of polite behaviour in a society." In a business setting this means understanding the critical factors that can make or break a business meeting, impress a potential client or influence a first impression on your inaugural day in a new job.
According to etiquette experts, the basic principle underlying professional etiquette is to always treat people with consideration and respect. Although this may seem obvious, it is sadly a frequent casualty in many workplaces.
So, if you are uncertain of what is deemed as appropriate professional workplace etiquette and want to ensure that you start your new job in the right way, here are some of the do's and don'ts of business etiquette you are likely to encounter during your workday.
Introductions
When you are getting introduced, offer to shake hands.
If you are in charge of introducing other people always introduce the less senior person to the higher ranked one - this gives the most senior person an air of respectibility.
When first introduced, stand up to meet or greet the person.
Maintain eye contact with the people you meet but avoid staring. If there is more than one person that you are being introduced to at the same time, ensure that you address each one equally when responding to a question.
If you forget a person's name while making an introduction, don't panic – unless you have a photographic memory it is unlikely that you will remember everyone's name. In that situation, don't shy away. Instead, say something like, "I'm really sorry, your name has just slipped my mind." But whatever you do, don't try to mumble what you 'think' the person's name could be, this will not only make you sound clumsy, it will also make you seem ignorant.
Take Note Of That Handshake
The handshake is an important component of the first impressions that a new employer or colleague will form of you. Indeed, psycho-analysts assert that there is a clear correlation between an individual's handshake and their personality.
One such psychologist, A. Vanderbilt, maintained that a handshake is as much a part of personality as the way we walk. He argues that although we can change and improve a poor handshake, it will usually be just like us, confident or timid, welcoming or hostile.
One could go a step further and argue that few things create a poorer impression than a weak, limp handshake.
Therefore, be sure to convey a strong first impression with a solid handshake and a steady grip and always couple your handshake with direct eye contact to set the stage for a positive encounter.
Non-verbal Communication, Eye Contact And Flirting
Fondling your hair, nervous laughter or staring blankly around the room are obvious no-no's.
Your demeanour is under scrutiny from the moment you enter the office as your new colleagues will naturally start to build a picture of you piece by piece. So create the right first impression by acting composed and confident.
Turn It Off!
If you cannot respect the most basic social graces on day one then you will quickly become an irritant to your new colleagues. Peeking at your mobile phone or BlackBerry during your first day will demonstrate one of two things.
Firstly, you will give the impression that you are easily distracted and more concerned about your friend's texting you than focusing on what the job in hand. And secondly, your new colleagues will sense that you are not making an effort to integrate with your new team and they may be less inclined to welcome you to the company.
You might also like...