Out with the Old Work Habits; Time to Refresh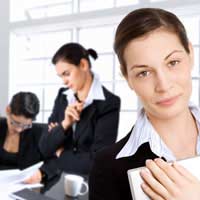 It is very easy to slip into bad work habits without realising you are doing it. When you are used to doing something a certain way in your job, there can seem no reason to change but you may find that there is a much better way to do it if you just try. To refresh your work habits you first need to have a look at what you already do and what your weak areas are. Then start to make the change – one habit at a time – and chart your progress towards that permanent shift.
Assess The Way You Work
When are used to doing something a certain way you often stop questioning whether it is the right way to do it or not. To refresh your work habits, you first have to be clear about exactly what you do and why. Over a period of time – perhaps a week – take note of all the different habits you have slipped into in your job and the processes that you go through each day. Once you have figured out what you do, you can work towards changing it.
Ask For Input
Sometimes it can be a difficult to take an objective look at yourself and your areas of weakness. Therefore, asking your colleagues, friends or family for input can help you gain a clearer picture of yourself. Ask them to tell you what they think you do well and what areas you could improve. Then, you can take their input and look at the habits you can start to change.
One Habit At A Time
Trying to change the way you do everything, all at once, is not very realistic. If you want to refresh your habits you need to focus on them one at a time and give yourself time to adapt to each change. Pick the one habit that you think needs the most attention and decide to spend your time making sure that you can change it. Don't expect too much too soon. Take your time so that you make it a permanent change.
Chart Your Progress
When you were a kid you got a great sense of satisfaction from a gold star or tick on a progress chart. The same principles can be used when you are an adult. By rewarding yourself for doing well and keeping track of your progress you will remain motivated and be more likely to succeed. Make a note of when you have successfully used the new habit and offer yourself a reward for each day, week, or month that you continue to do it.
Habits aren't easy to change but if you want to work at your best, then you need to change the bad ones. Take time to assess what you are doing and look at what you need to change. Ask your colleagues or family for input so that you can build an objective picture. Then pick a habit, one by one, and focus on making the change. Chart your progress and offer yourself rewards to help stay motivated and make sure it is a permanent change.
You might also like...