Using a Mentor in the Workplace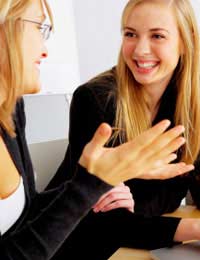 When you first start out in the workplace it can be an intimidating place and it is easy to feel quite overwhelmed. Everybody has been there at some point and will all understand the way that you are feeling. Having a mentor in your workplace can help make the move into your new job a lot easier. Not only can they help you with the everyday things but also help you get to know the company and work on your career. If you are not given a mentor by your company it is worth trying to find a willing volunteer.
Why Have A Mentor?
It is understandable that you will feel a little lost in your new job and it can be good to have someone take you by the hand. A mentor is someone who has been in the company for a while, understands how everything works and can help you to settle in. They will be able to offer you advice about fitting in, doing your job and also give you a bit of inspiration about where you could be in a few years time.
Being Given A Mentor
Some companies, especially larger ones, may assign you a mentor when you join the company. They realise the bonus of having a friend in the workplace and how a mentor can make you a better employee. Most mentors will have volunteered for the role and be happy to help you but if your mentor is not doing their role properly then bring this to the attention of your manager.
Finding A Mentor
If you are not assigned a mentor in your workplace then you may want to try and find one yourself. You don't need to particularly call it a 'mentor' but try to find a more experienced colleague who can help you and offer advice. Get talking to people at work and see who seems the most open and helpful. Then ask if you would mind if you came to them with any questions as you appreciate their experience and knowledge.
Using A Mentor
Once you have found your mentor you need to make the most of them. Draw on their knowledge and experience by asking questions and finding out everything you can. Don't bombard them or overwhelm them but think carefully about gleaning information from them. It may just be simple everyday things that you want help with or perhaps you want advice on how to work your way up the company ladder.
Having a mentor is a great way to settle into the workplace and learn about your new company. If you are not assigned one then try to find a suitable candidate who would be willing to guide you through. They will have much more experience and knowledge than you so make use of it. Ask questions, learn from them and improve your own skills and career progression. A mentor can give you a great boost and some inspiration for where your job could take you.
You might also like...