How to Tackle those First Day Nerves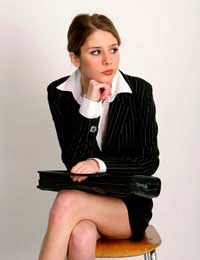 Regardless of whether your new job is a more senior or less senior position than your last one, or it's exactly the same but you are returning to work after a long break, your first day will be a mix of anxiety and nerves. Indeed, a survey has found that 1 in 5 of us think the first day in a new job is more nerve-wrecking than a trip to the dentist, taking your driving test or standing face-to-face with a rat or a spider.
However, surely the overriding feeling must be one of satisfaction that you have landed the job you wanted. So what is the best antidote for overcoming your first day nerves?
Banish Your Fears
We all know that day one can be stressful for all of us and is often made worse by our own paranoia and self-doubt. You may be questioning your own abilities by asking yourself, 'Did I oversell myself at the interview,' or 'Will I really be able to fit in with this company?'
But it is important to put these fears into perspective. Just remember that your new boss would never have given you the job in the first place if he didn't feel you were good at what you do. So remain, calm and composed and focused on the task at hand.
Don't Be Afraid To Ask
It is unrealistic for you to know all there is to know about your job on day one. If you are unclear about any aspect of your new role don't make the fatal mistake of pretending to know what you are doing in order to please your new boss because you will soon be caught out. Trust begins on day one and nobody wants a yes-man in the office – if you don't understand what has been asked of you there is no shame or embarrassment in asking for clarification from your boss or a colleague.
Be On Time
Turning up late for work on your first day is perhaps the worst faux pas you can commit. Not only does it demonstrate your poor time-keeping, it also suggests that you are likely to be late for work and client meetings which will cost your employer money in the long term. Indeed, being just 5 minutes late each day means that you will owe your boss 1 hour 40 minutes each month in lost time.
Dress Smart
Most of the time you will have been able to figure out what the appropriate dress code is for your new company. Even so, it is always worth investing in a new office wardrobe when starting a new job – new clothes, new job. Think of it as dusting yourself off.
Lunchtime
The first lunchtime can be a little daunting at times - do you go it alone or wait for an invitation from your new colleagues? Either way, don't read too much into how included or not you feel in the lunchtime routine on your first day. Remember, it will take them a while to get to know you better, too. Besides, unless you have been 'buddied-up' with someone, chances are that your colleagues have their own stuff going on. In that case, call a friend for a chat or better still, meet up with them for lunch- a friendly voice can go a long way to easing your nerves on your first day.
You might also like...